Stefanos Georgousopoulos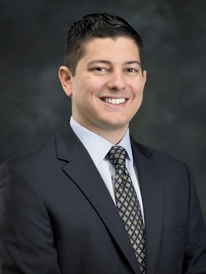 Stefanos Georgousopoulos (pronounced yor-goo-so-poo-los) is an attorney at The Khan Law Firm, Inc. Stefanos previously worked in civil litigation and constitutional law before joining the firm in 2017. Since joining, Stefanos has focused his practice on immigration and estate planning.
Education: After receiving a bachelor's degree in Music from California State University San Marcos, Stefanos graduated cum laude from California Western School of Law in 2016 where he earned his juris doctor degree. While in law school, Stefanos completed internships with the Riverside Public Defenders, the San Diego District Attorney, and in-house counsel of a large construction company.
Areas of Legal Interest: Stefanos primarily practices immigration law but also focuses on estate planning and civil litigation.
Personal Interests: Stefanos loves to drink wine in the beautiful Temecula wineries, hang out with his new son, or perform music throughout the community. He is also working on learning Spanish and Greek.
Attorney Stefanos Georgousopoulos is licensed to practice law in the State of California (State Bar No. 314856) and may handle Immigration-related matters in all 50 states.