Kelvin Monroy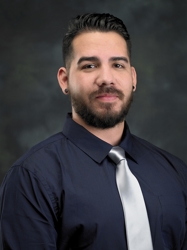 Expert Legal Assistant
Kelvin Monroy is a legal assistant at The Khan Law Firm, Inc. He assists all of the attorneys in the office and works closely with clients to achieve fantastic results. As the firm's assistant, Kelvin has a role to play in every single case.
Education: Kelvin is currently attending Mt. San Jacinto College, working on obtaining his bachelor's degree in the field of Engineering. He is bilingual, fluent in both English and Spanish, and is currently working on learning French.
Areas of Legal Interest: He started working in the field of immigration and nationality law in 2012 and joined The Khan Law Firm in 2017. Kelvin enjoys assisting in all aspects of immigration law.
Personal Interests: Kelvin Monroy is a nature lover who loves to explore the outdoors. He often tests himself mentally and physically in wilderness. He also likes to spend his free time with his wife and daughter at the beach or with family.